Open Mic Night is absolutely essential to a thriving creative scene. It is quite literally how Robert and I formed the foundation for all of our current work. It is the best way to bring out the creative people in your community who may not have an open doorway to get involved.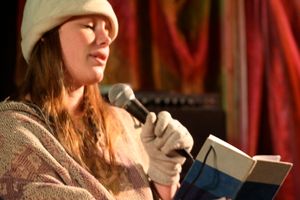 There are several kinds of open stage formats. Some are only for poetry, some are only for music, comedy or speaking. We prefer an open format- all ages and styles welcome. The most effective open stage night, in our opinion, involves a sound system equipped to handle everything from solo acts to full bands. You'll need a sound system as well as someone who already knows or can learn how to operate it.    
We've arranged for a starter package at a discounted price through our favorite equipment provider, Carvin. If you can locate a sponsor or invest yourself, you can acquire a high quality PA system to run music events. You'll need to identify a team member who is willing to act as the technical director and sound guy for the events. A weekly open stage is definitely a time commitment, so you'll need to identify someone who is energetic, passionate about the project and really ready to make it happen. Depending on your venue, you can take up a door fee that could compensate the sound man for his time.    
You'll also need a host. You can trade off hosting duties week to week if one person doesn't want to commit. However, the host is going to set the tone for the event, and the idea is for this event to cultivate your creative scene in an ongoing way. This role is an important one. You want to have a host that is positive, cheerful, inviting and supportive. He/she should be approachable, friendly and easy going. This will be the point person, and the one who welcomes new folks in and makes them want to come back.    
There are a few different possibilities for a space. One option is inhabiting a restaurant, coffee house or soda shop that is already open during the time you are there. The event would be a value to their business if your participants purchase food and drink or other products from them; in fact, if you are able to strike up this type of partnership you might recommend that everyone who attends make a purchase if possible. That keeps things mutually beneficial and harmonious. If you have a musical instrument shop in town, perhaps they would be willing to host the event inside of their store. Another option is to inhabit a fellowship hall, municipal building, or any open space that is legally permitted to host guests.    
You'll need to make a sign in sheet, and allow people to sign up for a performance slot. I number the sheet 1-25, and I discourage putting time slots on the list because it's difficult to predict that. We allow 3 songs or about 15 minutes of stage time. If the list is thin that night, you can always let them play more. We try to go in order of sign ups, though it's not always possible. Sometimes a school kid will need to leave early, or someone will have a specific reason to need a certain time slot. You should encourage your attendees to stay for the duration of the night; It's always annoying to the performers when someone comes, plays their music and then leaves as soon as they're finished. They are missing the point! The idea is to listen, be supportive, and interact. It is imperative that you foster a positive environment where people are kind and uplifting with their feedback. Always make sure the person on stage is welcomed with applause and, no matter what their skill level, people clap and support them. This is all about expression and allowing people to feel comfortable and good about putting themselves out there. At times we have encountered rudeness, like people talking loudly while the musicians are playing, and we began to make announcements asking people to respect the performers by taking quietly or in the other room. I've pondered making a sign to hang detailing open mic etiquette, though I've never done it. I think that could be a valid way to address those concerns if it's necessary.    
We advertise "All ages and all styles are welcome. Music, poetry, comedy, dance, story telling or any other kind of expression are encouraged. When young people are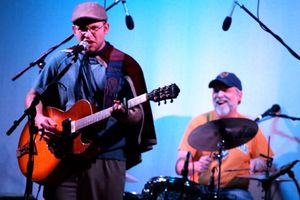 present, please censor your material accordingly." We also have a sign hanging in the room that says, "This is a family friendly environment. If you are visibly intoxicated, you will be asked to leave. We reserve that right."   
If you are having your open stage night in a space that does not have food and drink for sale, we recommend a snack table with coffee, cookies, etc. We always have candy bars, fruit, nuts, whatever. We charge $2 for performers and $3 for audience; that cover charge includes your drinks and snacks. One of our friends told us that our open stage night was like "adult day care." haha. We agree! It keeps people coming back; they love hanging out in the snack room and enjoying conversation. We have a wonderful intern from Concord University- one of his main jobs is "door man" for open mic's. He takes money at the door, answers questions and generally just helps it all go smoothly.    
Another feature we love to provide is blank paper and markers so that people can doodle while the music is happening. We used to have giant white sheets of paper in the middle of the floor and everyone would gather around to create. It was great, but eventually the noise began to be a major distraction for the performers, so we suspended that activity. Now, we have a big sketch book in the lobby with sharpies and people are encouraged to doodle there. It's a great way to get people to be creative, especially those who do not prefer to get on stage.   
If you have any questions about how we run our open mic's or how you're thinking of doing so, or you want to run ideas by me, I'm happy to talk it all through! Please ask questions in the comments below.  
by Lori McKinney  
Creator and Community Organizer