There are several ways co-op's function, and I'm going to give you the details about ours: how it came together, how it functions (and doesn't) and why it works.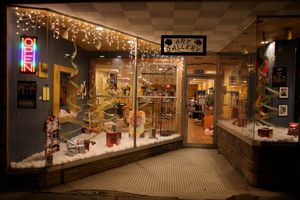 THE SPACE: We had the distinct advantage of being gifted a space to start our gallery—about 2,000 square feet of what was once a department store. It was given with the stipulation that we had to take care of the utilities and general maintenance. It is ideal to find a similar partnership with an individual or an organization that has access to a space they could allow you to use. A city-owned building, a fellowship hall, or really any open space would do. Right now, there is strong momentum toward cultivating a creative scene through CYS—even beyond West Virginia and throughout Appalachia—so the timing is ideal to start forging your community partnerships.  
THE ARTISTS: Over the years, we had met artists through Open Mic nights, creative events, and through the local colleges. Many of them wanted to have a gallery, but of course, most lacked resources to do that that solely on their own. We always knew that a co-op type model would be the way to go. So, we had artists but lacked that cohesion and ability to successfully pull it off.  
A couple of years ago, I noticed that there was a critical mass of artists of a variety of mediums who were willing and able to commit time, but the one thing we needed was an organizer—a manager (other than me) that could make the schedule and keep everything running smoothly. I contacted a close friend who does a great job as volunteer coordinator for our festival Culturefest and presented the idea to her. Briddy accepted the offer right away, and she, along with the other artists, devised a plan for launching and running our gallery.  
THE DEAL: We started with 11 members, so we were able to be open Mon-Sat from 10am-8pm. Each person had a shift, plus a Saturday rotation. As members have come and gone, those requirements and schedule have shifted. At this point, there are two levels of membership-working artist and supporting artist. Each working member is required to work 3 shifts per month manning the shop, helping out at events or working on projects throughout the collective. Supporting members show and sell their work in the gallery but do not work shifts. They pay $150 dues per year, and they can pay that annually, quarterly or monthly. It is set up online and that helps make the process easy and painless. Dues usually cover the electric bill. The gallery maintains 30% commission on all sales, and those funds go to pay for general maintenance, supplies and other expenses. Stocking select retail items such as incense, beard oil and sage adds to the gallery's revenue and keeps customers coming back to restock. Consumable items like these and hand-made products like soaps and candles create repeat customers, and while they are in the Boutique, they check out the art and oftentimes become attached to certain pieces. They might not buy that piece right away, but after several visits, they may end up taking it home. 
New members are decided upon by a vote amongst working members. Artists who wish to show in the gallery are required to bring in an artist statement, samples of their work, and answers to a questionnaire we all devised together. Decisions are made based upon those items. Ideally, working members meet once a month and make decisions together about everything from new members to new events to window displays.  
Each artist is responsible for pricing their own work, allowing for the commission subtracted, and each artist is in charge of creating their own inventory. A couple of the more administratively inclined members keep an eye on the inventory, checking for accuracy.  
After a good deal of time having Briddy as a volunteer manager, we were lucky to have the opportunity to hire her on a part time basis. She is in charge of creating sales reports, paying the bills, and cutting checks to the artists. This position is crucial to the Art Boutique running smoothly.  
REALITY: This model worked very well for us in the beginning with Briddy managing the schedule and keeping everyone on task. As the realties of time and finance set in, Briddy was unable to continue. As a result, cracks began to show. One by one, artists ended up graduating, getting a more time-consuming job, or losing interest. Thankfully, as a result of a funding opportunity, we were able to get Briddy back, and now, the boutique is functioning in a healthy and productive way. That one organizer who can keep the schedule, oversee operations, and generally be a point person is essential, and it's tough to find someone who is able to give that amount of time and energy strictly as a volunteer.   
I have realized that there is going to be a natural ebb and flow to our gallery. There will be influxes and declines in our artist roster and that is OK. Sometimes our schedules are challenging, especially with events and other commitments, and our hours are sometimes irregular. I've come to realize that this is acceptable. Sure, a shop manned 10am-8pm daily without fail is ideal. But we are still serving the purpose of being a creative entity in our downtown, and when we are able to keep consistent hours, we do.  
I understand that it is a luxury having access to a space for which we only have to pay for utilities and maintenance. If we were looking at monthly rent payments, the co-op would need to be much stricter in its guidelines, and we would need to have a constant artist recruitment plan in motion to fill any vacancies.  
When you look at the opportunity that we have created with our space, each member that steps into the mix is an entrepreneur and has the ability to reap the benefits from the seeds they plant into it. It's like everyone has their own little shop, though we all collectively share ownership. If someone were able to really invest their time, they could potentially make it very profitable for themselves. We always have our eyes and ears open for potential collaborators.  
HAPPENINGS: We host quarterly themed open houses and art showcases. These celebratory events give the artists a chance to meet up and socialize as well as showcase their creativity to the whole community. We start the year by being open for the Downtown Countdown, our epic New Year's Eve celebration, complete with a Ball Drop like Times Square. Then we celebrate Valentine's Day with "La Rouge—A Red Dress Art Event." Then it's "Awakening—The Art of Spring" and "Midsummer Magic," followed by an autumn gathering and a winter holiday event. We invite the other neighborhood businesses to participate when possible for "A Night on the Town" and it makes for a great opportunity to showcase our arts district and to foster community spirit. 
VALUE: Our gallery is a hub for creative people as well as a portal into the rest of the downtown. We direct people to the other shops, galleries, and points of interest, and we try to always have a schedule of town events handy. Our gallery is also a Visitors Center of sorts for our blossoming Grassroots District. As our town evolves and transforms, it is a stable beacon of hope and creative activity on the street.  
There are many successful models of art co-ops and collectives out there to study, and a google search will yield dozens of articles and examples of ways to go about it; I encourage you to explore the possibilities. I am happy to talk with you through all the details, and if you are able to come for a visit, I'd love to show you around, introduce you to the artists and to Briddy and let you pick our brains for any further information we can provide to you on your journey. 
by Lori McKinney  
Creator and Community Organizer