We love presenting Culturefest World Music & Arts Festival; it's the peak of the year for us, like a holiday for our creative community. It requires an enormous amount of preparation and attention to 1,000 details, but it is so worth it to provide this uplifting, meaningful weekend oasis of creativity. I'd like to share with you some of the framework for producing a festival like this; a checklist of sorts of the logistics you will need to square away in order to create the perfect festival within. I'll touch on those building blocks here, and as always, please reach out with any questions you have, or if you need me to expand on any of this content.   
SECURE A VENUE 
There are ups and downs to outdoor vs. indoor venues. Music festivals can have a beautiful atmosphere outdoors in a city park or facility like The Folklife Center, where we hold Culturefest. We find that beautiful scenery really sets the tone for an inspired event. Additionally, The Folklife Center has a rich history of music and community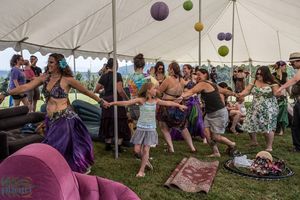 building, which makes for a meaningful connection with our festival. Of course, when you are outdoors you will have many factors to consider; weather is always a risk, so shelter such as tenting should be explored. If the facility does not have outdoor restroom facilities you'll need to secure portable toilets and hand washing stations, and electricity for your stages and other activities will need to be handled. Indoor facilities such as community rooms, arts centers, theaters, etc. typically have many of those logistics in place, so an indoor facility would provide its own set of advantages. You may have access to a facility that would be free of charge through your city or possibly a church, but most likely, you will need to consider renting the space. Rental prices can range from $50-thousands, depending on the caliber of the facility and duration of your event.    
HIRE SOUND AND LIGHTING PRODUCTION  
In our opinion, this is the single most important detail to be handled in event production. Quality sound is everything; you want your speakers and musicians to be heard, and you want your guests to have a positive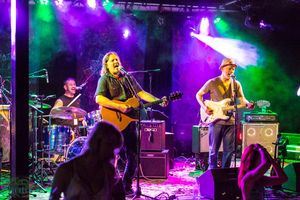 sonic experience. Bad sound can ruin an event, and your guests may not even realize what it is that is so uncomfortable. Overdone volume, poor tone and sound quality can make the vibe of an event negative. Quality sound at a comfortable volume can make an event run beautifully and conversely, your guests may not even realize what is so pleasant about the experience. Indoor venues like theaters may have in-house sound systems available to you. Some venues have a sound technician on staff, but most in smaller towns do not. You will need to consider both of these things. Quality lighting for events that extend past dark is also essential; you'll need to be able to see the performers. Dynamic and colorful stage lighting schemes can make any show feel exciting. Some technicians like Robert also have a flair for site lighting, and they can create a fun and unique atmosphere around the festival grounds. Locating a quality production company in your area to work with is a top priority. If you need help in this department, please contact us and we can help guide you through research and selection. These folks will be your top collaborators, and they will make the show run smoothly, so make sure you treat them well! Sound production can run anywhere from a few hundred dollars for a one day event to thousands for a multi-day event, depending on the caliber of the production.   
MUSIC BOOKING   
Quality entertainment makes for a fun and memorable time for your guests, and for events like Culturefest, it is the cornerstone of the experience. We like to book a nice balance of local and regional artists blended with acts coming from long distances, whether across the country or even overseas, when possible. This gives our local creative community a chance to mix and mingle with creative energy of all types, as well as showcasing the music and art of our region. People come to Culturefest expecting to discover new music; most acts they haven't heard of but they know they can expect quality acts in a rich tapestry of blended style and flavor.   
You'll want to have a music budget, and even if you can't pay competitive market rates for the acts, offering as much as you can will show respect for their craft and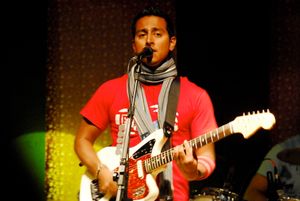 demonstrate that you value what they bring to your event. It will also yield quality performances for your festival. Artists that you have a personal relationship with, or those that have a special connection to your area or event, may be willing to offer their services for a small fee or even free, depending on their availability and ability to do so. But please, do not assume that musicians can or will offer that- their time is valuable and the work and effort that goes into honing the craft, purchasing equipment, traveling to shows and making themselves available is not to be underestimated. Even though music seems like a lot of fun, it is work. That being said, you might have access to a great musician who cares about what you are doing and can offer to play a free show, and you may pay thousands for an act that you just have to have; it all really depends on the specifics. You can always ask a band, "What do you typically charge for a show like this?" and let them dictate the conversation. Then, they will know that you understand that they need to be compensated, and you can negotiate from there.   
When we first started our festival, we only knew a handful of local and regional bands that we had personal contact with. We put feelers out there the first year through an internet search; we were looking for some ethnic flavor to present in the mix, and we discovered a beautiful Argentinian band from Floyd, VA called Solazo. That led to another discovery through their booking agency, and before we knew it, people were contacting us. Fast forward 13 years, and we can barely process all the submissions we get. I say, start locally first. Find out who is passionate, who is playing out regularly, and who is making stuff happen already in your area. If there are movers and shakers in your area organizing shows and they are also musicians themselves, please book those people- give them opportunities to play a show they don't have to organize; it will go a long way towards cultivating your scene, and they will no doubt appreciate it very much. They are likely also the ones who have a network of people that will come to your event and you will establish relationships through them. If you aren't familiar with your local and regional music scene, take some time to visit open mic nights in surrounding areas; travel to the festivals and events in close proximity and recruit. If you hear a band you like, stay after the show and talk with them. Get their business card and let them know you'd like to contact them for future bookings.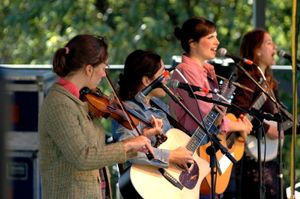 There are large and small booking agencies around even in smaller areas, and if you keep your eyes and ears open, you are likely to encounter them as you investigate your scene. Check their roster for acts of interest, and keep following leads; I assure you that doors will open. If you know of a band you like, go to their website and look on their contact page for their booking information. If they have an agency, go to the agency's website and explore what else they have to offer. Another tool for discovering acts is going to your local and regional newspaper sites and searching archives for "live music" "music shows" "local band," etc. Read articles and follow leads. There are a couple of sites that most working bands are listed on: Reverbnation is a gold mine for acts. You can target a search to your area and scroll through bands and solo acts for hours. I recommend refining the search by ordering them based on popularity; that way the more serious acts will show up first. You will need to pay close attention to content, make sure you listen carefully and like what you hear. We always look for artists that have a positive message, and care to make a difference in the world; we are not much into acts that spread negativity, use foul language, etc. There is an enormous amount of music being made these days, and you'll find a broad variety of style. If you don't fancy yourself a music lover or musical in nature, it would be wise to find someone or a few people who can head up your search. Once you've invited a band, you can't really rescend the offer in good faith, so make sure you know what you are getting into before you make contact. Another website, Sonicbids, is a bit more professional. You'll find touring acts from all around the world listed here, and you can set up a "Gig opportunity" where acts will submit proposals to you. You enter in all the vital details of your event, what you are looking for and what you can offer, and the submissions will roll in. You can actually raise a bit of money this way; you can charge a fee to submit to you, and then use that money to pay for your entertainment; it's a great deal. Once you begin the process of discovering musical acts, it will be an endless portal of awesome possibility.    
OTHER PERFORMANCES  
There are so many wonderful performance artists- from modern dancers and cloggers to fire and poi spinners, magicians and comedians to stiltwalkers, amazing hoola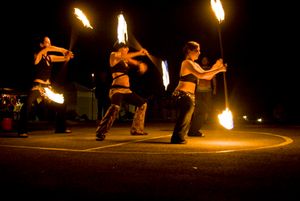 hoopers and circus people, and the list goes on. There are pockets of them in dense creative communities like Asheville, NC- there is a whole circus collective there that explores aerial silks, stilt walking and so much more. We like to bring as much flavor and creativity to Culturefest as possible; we've booked puppeteers, faeries, storytellers and belly dancers, and we're always open to new expressions. You can look on websites like Gigsalad for acts or you can choose the most fun approach to research- visit festivals like Culturefest, LEAF, Floydfest and Shakori Grassroots. Don't be afraid to approach an artist and get their contact information. If you can't attend, go on festival websites and look for information about their performers.   
WORKSHOPS & COMMUNITY ART PROJECTS 
We love to present workshops and hands on activity so that guests can be a part of the creativity. Many times, performers are willing to throw in a workshop as part of their weekend, and members of your community that have a special skill might be pleased to receive an invitation to share their knowledge or craft in that setting.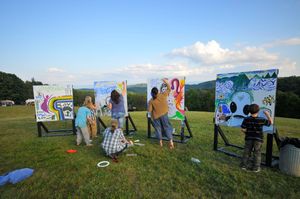 We've had workshops in everything from belly dance to drumming to upcycled art and cob building. We also recently instituted "Conversations at Culturefest," a series of facilitated discussions surrounding important topics, so that attendees can share deep, introspective conversation in a focused way. The environment is so relaxed that people feel inspired and open to really delve deep. We place giant art boards out in the field with paint and brushes and anyone is welcome to paint; by the end of the weekend these spectacular works of collective creativity have emerged; it's truly beautiful. Any kind of community art project you can envision will be special and memorable.   



KIDS ACTIVITIES 
We always keep our events family friendly, and kid focused. We want people of all ages to have an amazing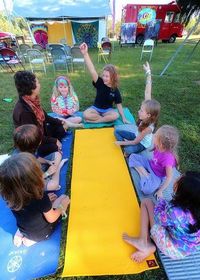 time, and many of our guests say that the best thing about our festival is being able to let their kids roam free without a worry. We do not have alcohol available for sale, and we prefer to keep it that way. The people that come are there for the positive, uplifting creative activity, and this allows us to really create fun experiences for the little ones. We designate a special area  "LaLaLand," and schedule special activities like craft classes and kid yoga. At the height of the festival, we have a kids parade; they dress in costume and march around the site singing; it is a lovely tradition. We highly recommend you include kids' activities in your programming.  
VENDORS 
Artisan, retail and food vendors are some guests' favorite feature at Cultuefest. We like to have a colorful array of handmade items as well as carefully selected retail items; people love to look and shop, and we love for artists' work to be featured. People love listening to music and strolling through the vendors' tents to enjoy the work and have conversations. And of course, the food is always something that people look forward to about festivals. At Culturefest we like to feature vendors that are passionate about the food they are preparing; we like for people to encounter new flavors and approaches, so anytime we come across a vendor that creates unique culinary experiences or has a unique style, we try to lock them in for our festival. Vendors are just as valuable as performing artists, but since they have the ability to sell their wares, you typically do not pay them to display and rather, most festivals charge a fee for them to vend. However, if an artisan can demonstrate their craft, like blowing glass, weaving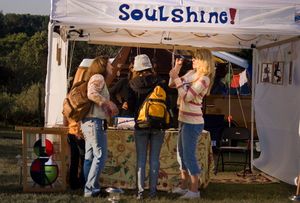 or live painting, waiving their vending fee would be a great trade. We are selective with the vendors we choose; we try not to overlap items; we don't want to have several vendors selling the same products, and we want vendors who are passionate about what they make and/or sell. There are 2 different fees- artisan and retail. If every item is handmade by the vendor, they pay the artisan fee, and for Culturefest, it's actually just the same prices as buying tickets. If any of the items are bought and sold at retail, the vendor pays the retail fee. The artisans are an integral part of the festival and we want them all to feel welcome and valued. it is important to make sure the logistics of their space is handled so they can have a smooth experience and feel like they matter. For instance, if you are outdoors, make sure you know how they will get electricity, and make sure they will be set up on even ground with enough clear space to place their tent. For food vendors, you'll need to make sure they have access to water, and know specifically how they will access it. If you have portable toilets, make sure one is placed in close enough proximity so that the vendor can run to the restroom without having to abandon his/her booth for too long. If it's possible to have a vendor coordinator on your staff or volunteer team, have them stay tuned and available to the vendors throughout the event to check in and take care of any needs that arise. In order to recruit vendors, head to other festivals in your region and collect business cards. Make contact with vendors you like and invite them to your event. You can also search for vendors through this resource: festivalnet.com. You can search by region and find traveling vendors that might be interested in adding your event to their annual roster.  
ATMOSPHERE 
We like to create an atmosphere that feels like stepping outside of the world for a weekend. In the early years, we gathered our people together and had them paint signs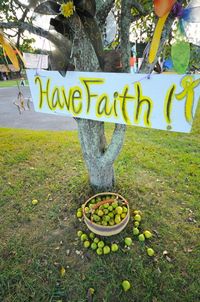 with inspired sentiments on them; now the site is decorated with uplifting thoughts and bright colors. We hang stars in trees and light up the night; the more sparkle, the better at Culturefest. We want people to forget about the world "out there" and experience a wonderland for the senses. We urge you to pay attention to aesthetic detail and focus on creating an unforgettable atmosphere for your guests.  
VOLUNTEERS AND STAFF 
There is an enormous amount of work to be done in the days leading up to the festival and, of course, during the event. We are thankful to have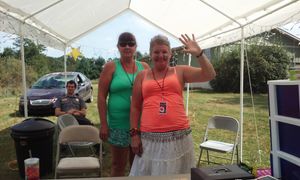 a wonderful group of volunteers; they work the gate, handle parking, help decorate, clean, keep the fire lit, etc. etc. Over time we have budgeted to take some of those super volunteers into paid staff positions, and they sure have earned it. Our volunteer coordinator gave her time from the beginning recruiting, scheduling and overseeing volunteers, and that is an absolutely essential role. Consider who in your team or network might be willing to take on this essential task.  



CONSIDER RESTROOMS 
This is mostly a concern with outdoor facilities. We have used the same port-a-pottie rental company for a decade now and we enjoy working with them. We know what to expect, and they are polite and accommodating. You want to make sure to have enough units for the amount of people you are expecting; that is tricky as you likely know. It's hard to tell how many people will show up to an event, but it is absolutely best to be prepared. There is a formula for people/unit ratio, and your septic provider will be able to tell you what that is. We recommend providing at least 1 handicap unit and a hand washing station. Anything you can do to make this experience more pleasant will be appreciated by your guests. We put Christmas lights on top of ours to make for easier usage at night, we make sure there is hand sanitizer in each unit, and one year we even put comics up inside. We've pondered putting sprigs of lavender in them; anything to let your guests know you care. The main thing to do is make sure there are enough units, and if you are presenting a multi-day event, schedule cleanings with the septic provider. In our Thursday-Sunday event that draws between 500-1000 people, we have the port-o-pottie guys clean the units once on Friday and again on Saturday.  
FUNDING 
There are a lot of expenses associated with putting on a quality festival, from sound production and entertainment to portable toilets and security to decorations and details. Fortunately, there are several ways to raise the funds to make it all happen.   
Of course, ticket sales are one revenue stream. In an ideal scenario, we would love to offer Culturefest free of charge but unfortunately, we have yet to locate a golden ticket sponsor to make that happen... perhaps one day. Until then, we offer day passes that range from $7-20 and full weekend passes at $50, which include all 4 days plus camping on site. Of course, ticket prices will vary based on various factors such as your area, extent of your offerings, etc. You can certainly put on a festival inspired by this event on a much smaller scale, so this is certainly an open field with plenty of options. Vendor fees are another stream of revenue. We charge $100 for an artisan (price includes 2 weekend passes), $175 for retail and $220 for food. Those fees are an essential part of our budget puzzle.  
Sponsorships and advertising are the main funding source for Culturefest. We are lucky enough to have an awesome graphic designer as part of our core team. The way we were able to launch Culturefest and fund it in the beginning is because we looked like a million bucks straight out of the gate. I highly recommend finding an excellent graphic designer that is passionate enough to join forces with you, or invest some up front money in hiring one. Sponsors like the idea of seeing their logo on awesome looking print materials. The main bread and butter of our event is our 40 page program booklet. From 1/8 page business card sized ads at $100 to full page ads at $400, we raise our Culturefest budget though those ads. The booklet includes a schedule and information about the artists, so attendees and those interested in the festival have to flip all the way through the book to get the info.; this way they see al of the ads and they are actually valuable to the sponsors. We print them on newspaper through the commercial print department at Parkersburg News & Sentinel; the shortest run they can do is 5,000, so we have tons of extras to use as promotional materials leading up to the festival and, of course, everyone on site gets one or more if they need them. We crafted sponsorship packages ranging from advocate to gold that include those ads, logos on fliers and posters, company banners on site, logo and link on website and social media posts and emails, mention in news media and free tickets. We have one platinum level sponsorship that as of yet, no one has taken advantage of. It includes the company's name along side ours- LLyniuM entertainment- as presenters. For instance, "LLyniuM entertainment and Clif Bar present Culturefest…" It also includes the company's banner on both stages, a fully set up tent lit with tables and chairs, top billing in all media and on all print materials, etc. That's a $15,000 package and we hope that someday, someone will see the value and bite. It is interesting that the average consumer doesn't realize that the sponsors just write a check. They see their names on the event and genuinely think the company is responsible for making this awesome event happen. So, sponsorship of special community events truly is a value to the advertiser.   
There are some grants out there for fairs and festivals; our state Division of Culture & History has a Fairs and Festivals division, and we are thankful to have a grant from them. Sadly, these grants may be dwindling due to our state's precarious economic condition, but for now, they are a big help. You can also use a variety of project based grants to fund an arts festival if you frame it right. The WV Commission on the Arts has wonderful support for arts programming; I encourage you to explore all avenues in that realm at wvculture.org. We have recently struck up a partnership with Appalachian South Folklife Center, the nonprofit organization which hosts Culturefest, and they have received Community Arts Project Support from WV Commission on the Arts to sponsor performances at Culturefest. Partnerships are key as you are creatively weaving the tapestry of your funding strategy. Arts festivals can be a community development strategy, as well as a civic engagement tool, so some grants that request projects in these arenas could be a good fit. Mini-grants for community development through programs such as Innovation Acceleration Strategy could fund the start-up of a community arts festival. Community foundations and established arts organizations may also be interested in supporting the effort, so make sure to fully explore the possibilities.   
PROMOTE 
I am certainly not an expert on event promotion; we are still challenged to get the word out to everyone in our area and around the region. We have established a nice core audience base though, and the people who know about Culturefest have fallen in love. Again, our print materials and website look amazing, so that makes our event branding top notch. I do recommend you work with a great graphic designer to give your event an identity from the get-go, a colorful, vibrant and welcoming identity that people will be drawn to. Of course, plastering great posters everywhere you can think of and leaving stacks of fliers at all locations where potential interest exists is a great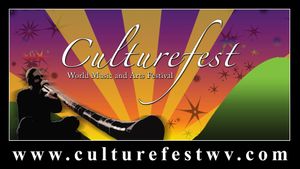 strategy. If you can gather a "street team" of promoters to do the poster hanging mission, that would be great. Send them out on road trip missions with gas money and snacks and make a fun adventure out of it. If you have incentives you can offer like free tickets, T-shirts, cash, etc., that can sweeten the pot and maximize results. I've always wanted to create a giant map of our area, separate it into zones and mark every bulletin board or potential site for a poster, and make a very targeted poster hanging strategy that would totally canvas our region. If you have time and capacity to accomplish that goal, I highly recommend it. Our official website is an informational portal, and I recommend having one if possible. culturefestwv.com allows us to fully explain everything from ticket and camping information on one page to performer photos, bios and links on another, a bit about the location on another, and so on. It makes the event feel very official, and your advertisers can have that extra exposure as well. If you can't launch a website the first year, perhaps that can come later in the game, and you can start with social media in the beginning. Facebook and other social media like Twitter, instagram, etc. are essential for promoting; there should definitely be a tech savvy person on your event team; if you don't have one, check the local high school or college for a passionate student who needs volunteer hours in community service and recruit them. You should establish an EVENT PAGE on Facebook so that you can directly invite attendees, and all of them can invite their friends. It's a good forum to keep guests and potential guests up to date and also keep them engaged with your event at the forefront of their minds. There are all kinds of websites where you can list your event such as festivalnet.com, jambase.com, everfest.com, whofish.com, etc. Your local tourism department probably has an event calendar online, and ours sends an e-blast. You should definitely research what your local tourism bearaeua can offer, and they will likely be able to offer plenty of guidance. They will be pleased that the area is gaining a new event! Find all the event calendars in your area on tv stations, newspapers, etc., and list your event everywhere you can. And finally, send a PRESS RELEASE to all your local media sources as well as ones in surrounding areas. You'll need to do some research to come up with a list of contacts to send to, and it is all easily accessible through the wondrous world wide web. First, you can google "newspapers in Mytown, USA" or "newspapers in Southern WV." You'll also want to find tv stations and radio stations, and find out in what format they like to receive information. You can send the release to general news contacts, like "news@wvva.com," but you should also target journalists who specifically write about entertainment. A good way to find those e-mail addresses is to go on the newspaper website and search for articles about live music, local bands, festivals, entertainment, etc. See who is writing these articles and look for their e-mail address. You can usually find it at the bottom of the article or on the contact page within the website. You'll have to do some digging, but once you find them, you can establish a press list that you can use time and again when you host events. Here is a decent article explaining the basics of writing a press release.  
EVENT INSURANCE  
Some organizations have insurance that covers them at all times, but we always purchase liability insurance for events to protect ourselves. You can find basic policies online; we generally pay about $100 per day for this coverage. You can visit a local agent or google "special event insurance" for options.   
SECURITY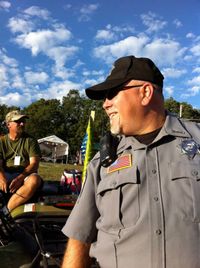 Finally, since our event is a multi-day event including on-site camping, we provide security guards so our guests know to behave, and so they can feel safe. We also have a ton of equipment that needs guarded while we are sleeping. We've never had a bad incident in our 13 years of Culturefest, and we think it is because the presence of the guards keeps people in line; they know they must behave well, like in any public place. We work with a local security agency, and we've used the same company year after year. It's become a well oiled machine.   
So, there are more details and logistics I could write about, but I don't think you want to read an entire book here. We started small our first year and certainly didn't have all of these logistics together right off the bat; you learn and you grow. Don't feel like you have to have the full on production in place in order to begin. I am here to answer any questions you have as you embark up on this journey; no question is too small to ask- please reach out as much as you need to. I will give you guidance on any part of event planning, and if I don't know the answer to your question, I'll find it for you.   
I know it's a daunting task and there is so much to consider, but I assure you that it is so very worth it to provide this experience for your community; there is nothing more fulfilling! 
by Lori McKinney   
Creator and Community Organizer